Kruger to Maintain All Critical Activities in Accordance With Government COVID-19 Guidelines
Press release
Kruger Inc.

Montreal, March 24, 2020 – As a provider of goods and services that consumers and businesses rely on for their everyday needs, Kruger Inc. announced today that it will be maintaining all of its operations that have been declared essential by Canadian and U.S. authorities or COVID-19
government guidelines, including the manufacture of tissue products, food packaging and containerboard, newsprint, publication and specialty papers, as well as recycling services, the bottling of beverages and the production of electricity.
Kruger is working closely with suppliers, contractors, shippers and customers to maintain these activities and ensure that our products continue to meet the essential needs of North Americans.
The Company has also implemented rigorous safety and hygiene protocols to ensure that employees identified as part of its essential workforce remain safe and contribute to preventing the spread of the coronavirus.
Consequently, the following plants will continue to operate until further notice:
TISSUE PRODUCTS
CANADA
Québec
Crabtree Plant
Gatineau Complex (Richelieu and Laurier Plants)
Sherbrooke (Lennoxville) Plant
Joliette Distribution Center
Ontario
Scarborough Plant
Trenton Converting Plant
British Columbia
New Westminster Plant
New Westminster Distribution Center
UNITED STATES
CONTAINERBOARD AND PACKAGING
CANADA
Québec
Place Turcot Containerboard Mill (Montréal)
LaSalle Packaging Plant (Montréal)
Trois-Rivières Mill
Ontario
Brampton Packaging Plant
NEWSPRINT, SPECIALTY AND PUBLICATION PAPERS
CANADA
Québec
Brompton Mill (Sherbrooke)
Kruger Wayagamack (Trois-Rivières)
Newfoundland and Labrador
Corner Brook Pulp and Paper Mill
RECYCLING SERVICES
Québec
Notre-Dame West Recovery Center
Henri-Bourassa East Recovery Center
Ovide Rouillard Inc. (Sherbrooke)
CN Garneau yard – Railroad ties operations (Shawinigan)
Kruger Recycling Warehouse facilities in Trois Rivières, Sherbrooke and Beauharnois
BOTTLING SERVICES
Québec
Montréal Bottling Plant
KRUGER ENERGY
CANADA
Québec
Montérégie Wind Farm (100 MW)
Hydro Bromptonville (9.9 MW)
Ontario
Port Alma Wind Farm (101.2 MW)
Chatham Wind Farm (99.4 MW)
British Columbia
Zeballos Hydro Plant (22 MW)
UNITED STATES
Maine
15 hydro plants (11.45 MW)
New York
7 hydro plants (15 MW)
Rhode Island
1 hydro plant (2 MW)
Virginia
4 hydro plants (7.25 MW)
INFORMATION:
Jean Majeau
Senior Vice President, Corporate Affairs and Communications
514-343-3213
jean.majeau@kruger.com
Latest News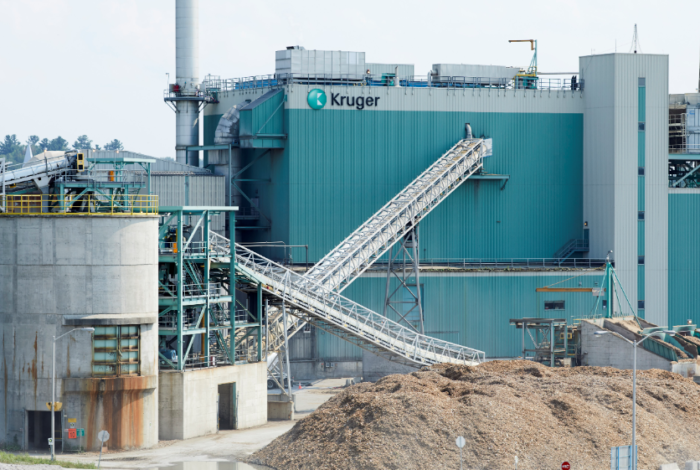 Press release
Publication Papers